COMMUNITY – REGIONAL – GLOBAL CONNECTIONS
We are interconnected in one humanity – one species – let us become aware of each other
COMMUNITY CONNECTIONS
ENCOUNTERING MALAYSIANS IN COMMUNITY
NETWORKING
NETWORKING GLOBALLY WITH COMMUNITY BUILDERS
REACHING OUT
REACHING OUT TO MIGRANTS & MINORITIES
ENCOUNTER
ENCOUNTER MALAYSIANS -VIDEO PROJECT
CAPACITY BUILDING
REACHING OUT TO CAPACITY BUILDING PROGRAMMES FOR COMMUNITY WORKERS
PROGRMMES
SPECIAL SUPPORT PROGRAMMES
About Community Connections
We began Community Connections with our project Building Bridges in 2008 that brought together people of different ethnic heritage in Malaysia to share perspectives, hopes and wishes for the future of Malaysia as a multi- ethnic plural society. Initiated after the 2008 elections that first broke the one-party domination of the Malaysian political scene, the project offered a space for different communities to have a voice to share their dreams for the emerging democracy.
We started with students and non-profits and eventually flowered into a 5-year annual 3 -day residential Diversity & Inclusion Camp targeted at 1st and 2nd year students of private and public tertiary institutions – to provide an arena for them to get to know each other and discover diversity and inclusion experientially. The project ran from 2012-2017. In that course of time we reached about 500 students who have since then gone on to build careers bringing with them the messages of acceptance of diversity and inclusion and practical ways to self- check as well as assist others in this journey of discovery of the self in relation to the other.
In July 2018 we began a new community intervention with Building Bridges Connecting Communities in collaboration with the Christian Council of Churches to bring together Malaysians of all communities and affiliations for a half-day workshop to share perspectives on Malaysian life, examining stereotypes and finding ways to develop connections with other communities. Sessions were held quarterly and sometimes hosted by other organizations – building momentum and creating a community virtually with a presence on Facebook and WhatsApp
In anticipation of GE 15, a new way of presenting the issues was developed in a card game called Harmony Hub Malaysia1 and this was launched at the end of 2019 and had its first run in January 2020.
The arrival of Covid19 to Malaysia in March 2020 and the implementation of the Movement Control Order interrupted further development of face to face events and we moved to virtual encounters in May 2020.
Virtual Encounters led to a deepening of conversation and an impetus to do something as a group. In the July meeting 4 possible courses of action were identified by the participants attending the Zoom event.
These 4 actions were:
Using time and talent to empower members of the community
Creating content on media that promotes harmony and positive narratives of Malaysia to counteract the negativity that prevails.
Plan and organize activities that promote interethnic dialogue
Participate in groups that are involved in community interactions to provide assistance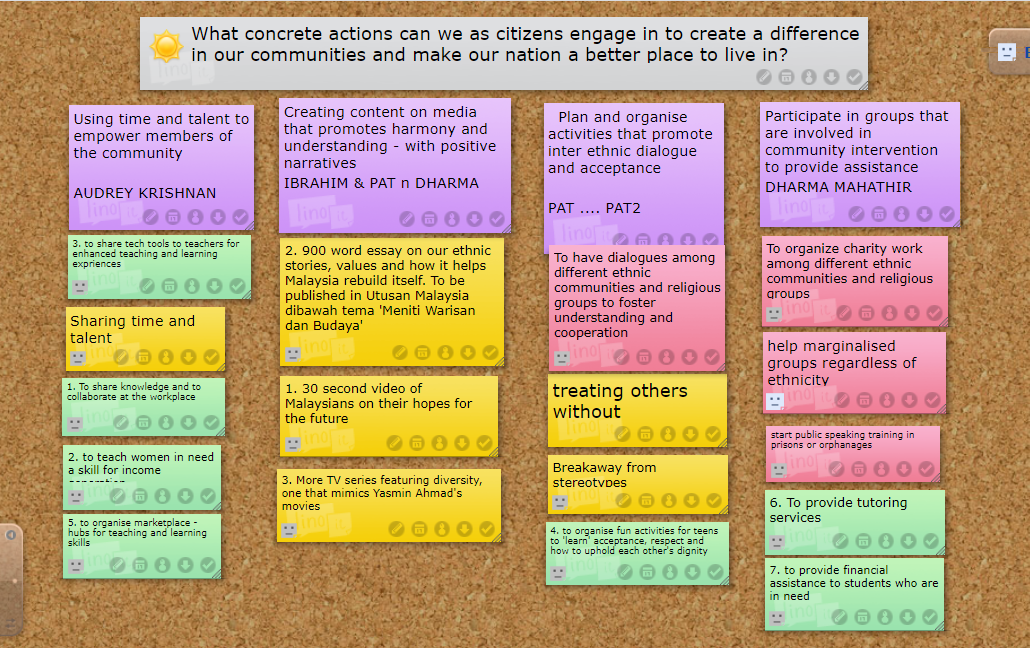 SAYA SAYANG MALAYSIA
A VIDEO PROJECT
This video project is an attempt to spread Good News. The premise is to provide a balanced view of the myriad gift that is Malaysia and its diversity of peoples and culture. Despite the challenges we face in this multiethnic, multi-religious society – there is much that is going well and we see evidence of this when we go to the ground and talk to individuals in their different life situations.
We interviewed persons from all walks of life and have them on video … sharing
Why I Love Malaysia – or in Bahasa Malaysia,
Saya Sayang Malaysia –